First edition: Bergen Academy, Norway
January 18– 19, 2012
Through this two day seminar, questions around looking and the overlooked are addressed, pointing toward acts of sonic intervention, secret projects, smuggling operations, covert criticality and other methodologies of the hidden or erased to enliven debate on contemporary cultural practices.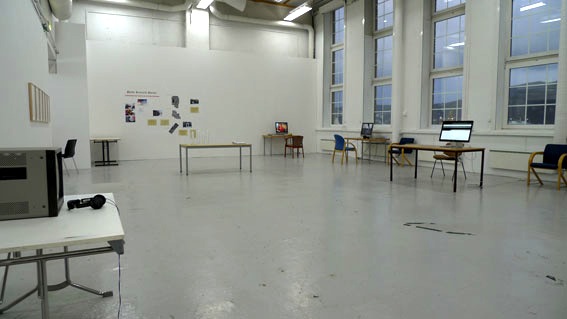 The seminar consists of presentations by visiting artists and theorists. It is the aim of the seminar to open up dialogue and round-table discussion, and to investigate the theme from a multiplicity of perspectives. An exhibition of works by related artists and participating students is also integrated into the seminar, enlivening discursive exchange with diverse material expressions on representing the unrepresentable.
Seminar:
Faculty of Invisibility (Sönke Hallmann, Inga Zimprich)
Jennifer Gabrys
Brandon LaBelle
Katrine Meisfjord
Robert Sember
Michelle Teran
Jeremy Welsh
Exhibition:
Ingrid Eikhaugen
Moa Franzén
Helene Førde
Marte Gunnufsen
Johnny Hebert
Cecilia Jonsson
Christina Kubisch
Brandon LaBelle
Susi Law
Sandra de la Loza
Signe Líden
Maria Miranda / Norie Neumark
Eamon O'Kane
Annette Stahmer